Volunteer Opportunities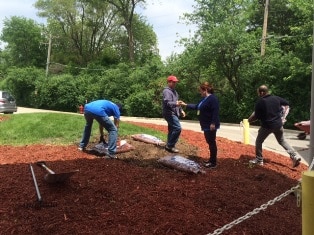 Nearly 3,000 individuals dedicate their time, skills and talent to Clearbrook annually.
Volunteers care for children with special needs, paint and beautify our community-based group homes, join our special event organizing committees and assist with administrative duties.
Whether you are an individual looking to give back once a week or once a year, or an organization looking to build your community from within, we welcome you to get connected to a valuable cause like Clearbrook.
Year Round Volunteer Opportunities
Take A Break Volunteer Program
Volunteers provide care giving to a child with special needs and their siblings for four hours per week. Volunteers participate in a training program and a six month commitment is requested.
Take A Break in the Afternoon Program
Engage in activities with children of all abilities on scheduled Thursday afternoons and Saturday mornings at one of Clearbrook's five sites.
Adult Day Services & Residential Programs
Share a hobby with a client, accompany group outings or simply lend a helping hand. Weekdays from 9:00 a.m. until 3:00 p.m. as well as evenings and weekends. Volunteers needed to assist with lunch (feeding) and engage in various activities to enhance clients' productivity and socialization.
Adult Bowling Program
Be a lane buddy for adults with disabilities on specified Saturdays from 11:15 a.m. until 1:30 p.m. at Elk Grove Bowl at 53 South Arlington Heights Rd. in Elk Grove Village. (September through March)
Office Help
Typing, filing, data entry and assisting with bulk mailings are just a few of the many clerical skills always needed.
Special Group or Service Projects
Organize a beautification (i.e. painting, landscaping, etc.) project at one of Clearbrook's residential or day facilities.
Special Event Volunteer Opportunities
Friends of Clearbrook Wine Tasting
Assist with room set-up, sell wine and raffle tickets or tend auction tables at our February event from 5:00 until 11:00 p.m. at The Westin in Itasca.
Guardians Casino Nights
Work game tables, bartend, serve food and drinks, sell raffle tickets and much, much more from 5:00 p.m. until 12:00 a.m. at 746 South Vermont Street in Palatine. Guardians host their casino nights twice per year, once in March and once in October.
Shining Star Ball
Sell raffle tickets and assist with auction tables at our April event from 6:00 p.m. until midnight at the Four Seasons Hotel in downtown Chicago.
Clearbrook Jelly Belly® Days
Pass out signature packages of Jelly Belly® beans and collect donations at intersections and/or storefronts throughout the city and suburbs in two-hour shifts during our annual May event.
Summer FunFest
Set up and tend games or "buddy" with a client to enjoy lunch and a fun-filled day in June at 3201 West Campbell Road in Rolling Meadows.
Golf Outings
Assist with registration, betting holes or raffle ticket sales at Clearbrook's various golf outings held each summer.
Around the World Food Tasting
Assist with set up and clean up, restaurant needs, raffle tickets sales and silent auction tables at our food tasting held each year in October.
Our Volunteer Coordinator, Kathy Scheuing, can work with you to find the best volunteer fit for your schedule and interests. You can reach her at 847-385-5016 or kscheuing@clearbrook.org to explore options.