PURSUIT Program
PURSUIT is a collaborative program between Clearbrook and NWSRA that provides opportunities for continued growth for adults with disabilities through recreation and leisure activities that are fulfilling and enriching.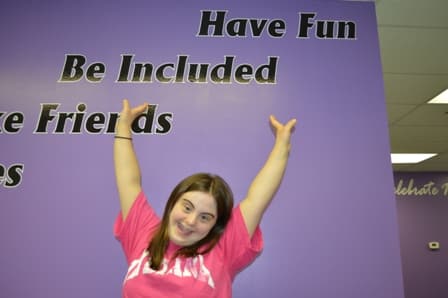 It is designed to meet the needs of individuals with disabilities 21 years and older throughout the year by creating recreation and leisure opportunities, improving health and wellness, teaching life skills, self-advocacy, and community integration. Admission is continuous throughout the year, subject to availability.
PURSUIT is certified by the Department of Human Services, Division of Developmental Disabilities.
Where is the program located?
Rolling Meadows Community Center
3705 Pheasant Drive
Rolling Meadows, IL 60008
Hanover Park Community Center
1919 Walnut Avenue
Hanover Park, IL 60133
Mt. Prospect Central Community Center
1000 West Central Road
Mount Prospect, IL 60056
Buffalo Grove Fitness Center
601 W. Deerfield Parkway
Buffalo Grove, IL 60089
Wheeling Community Center
100 Community Boulevard
Wheeling, IL 60090
Vogelei House
650 West Higgins Road
Hoffman Estates, IL 60169
What are the age requirements to participate in the program?
PURSUIT serves adults with disabilities over the age of 21. A two-week trial will be initiated following the initial intake assessment in order to determine eligibility and needs.
Contact Information
If you would like more information about the PURSUIT program, please contact our Admissions Department:
Heidi Raymond
847-385-5328
hraymond@clearbrook.org
For a copy of the PURSUIT brochure, click here.