Preparing young people with significant disabilities for success in competitive integrated employment.
Project SEARCH uses a combination of classroom instruction coupled with workplace internships to prepare individuals with disabilities for competitive employment. Project SEARCH is hosted by Sedgebrook in partnership with the Lake County Regional Office of Education (ROE), Clearbrook, and with the Department of Human Services–Division of Rehabilitation (DRS). Project SEARCH is based at Cincinnati Children's Hospital Medical Center.
---
Benefits of Project SEARCH:
•  Internship training experiences
 • Competitive, transferable, and marketable job skills
•  Increased independence, confidence, and self-esteem
 •  Individualized coaching, direct instruction, and daily feedback
•  Chance to build personal and professional relationships
 • Opportunity to obtain and secure employment in non-traditional jobs for people with disabilities
---
Program Overview
The Project SEARCH High School Transition Program is a unique, one-year, school-to-work program that takes place entirely at the workplace. Interns participate in employment-related instruction and are assigned internships in up to three departments within the business host site.
The program provides real-life work experience combined with training in employability and independent living skills to help young adults with significant disabilities make successful transitions from school to productive adult life. The goal for each intern is competitive employment.
The Transition Program is for interns:
In their last year of school eligibility and have completed all the high school credits, graduation requirements, and/or IEP goals.

Interested in working within a business setting.

Working to achieve competitive employment.

Involved in their IEP development.

Willing to utilize public transportation.
All interns are involved with the DHS-DRS. Program partners meet with Project SEARCH staff, family, and interns throughout the program year to provide vocational rehabilitation counseling and guidance.
---
Program Eligibility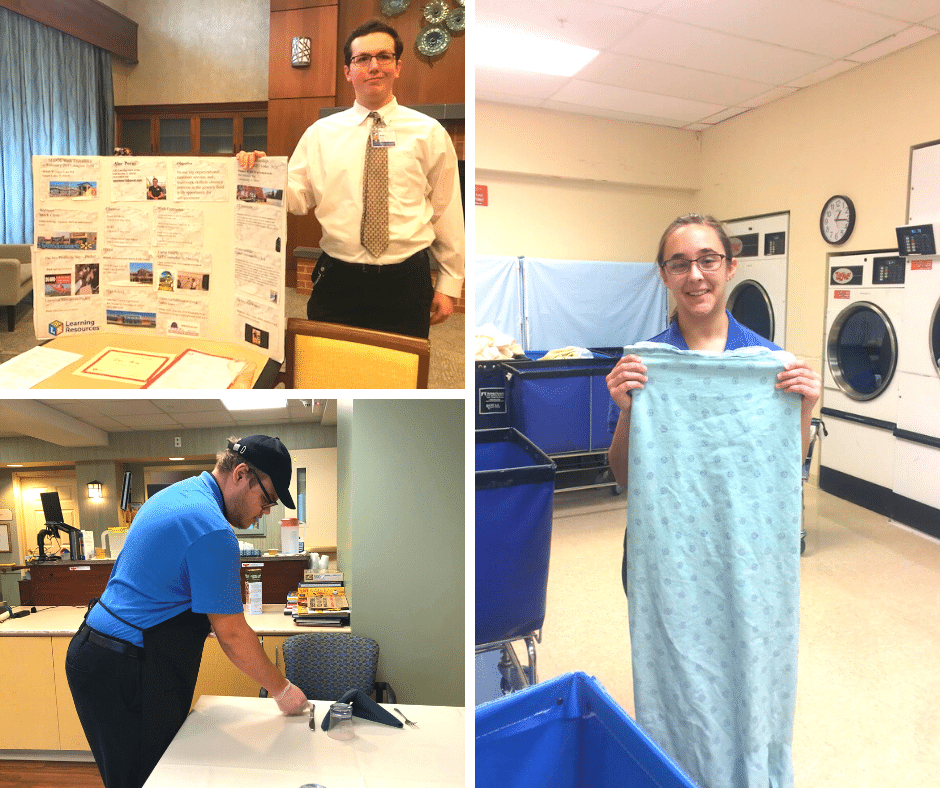 The following guidelines for eligibility are required for student candidates:
Ability to work independently with minimal prompting or supervision.

Employer/community-acceptable social skills.

Basic communication skills (verbal or supported by technology).

Ability to take direction and basic problem-solving.

Meets personal appearance/hygiene standards.

Minimum of 18 years of age.

Ability to use the restroom and cafeteria facilities independently.

Ability to pass a drug screen, two-step TB test, and various background checks.

Documentation of current immunizations.

Ability to access, and willingness, to use independent transportation.

Desire to work in a business setting.

Currently eligible for DRS services and Medicaid

Desire to work and develop strong work ethics.

Completed high school credits needed for graduation.

Agree that successful completion will result in graduation and acceptance of diploma at the end of the program.
---
Application Process
Students are referred to the program through their school district and would apply in the spring of the year prior to entering the program. An open house is held annually for potential students, family members, the community, and interested businesses. It provides an opportunity to learn about potential worksites, meet the Project SEARCH staff and interns, and discuss program goals. All attendees have an opportunity to ask questions.
The student, teacher, and family complete and submit an application by a predetermined deadline. Space is limited for students applying and the selection is carried out by members of the Project SEARCH Steering Committee. The committee schedules assessments for qualified candidates. Results and applications are reviewed by the committee and they will make their student selection recommendations. Acceptance letters are sent to students and IEP meetings are scheduled. All interested students are encouraged to request an application packet from their teacher, district special education director, or by contacting Gianna Eckhart at geckhart@clearbrook.org or 847-682-9557.
---
VIDEOS
APPLICATION MATERIALS   WGN VIDEO  ABC VIDEO   NBC VIDEO   DAILY HERALD FEATURE   CBS VIDEO VIRTUAL OPEN HOUSE
TESTIMONIAL #1   TESTIMONIAL #2  TESTIMONIAL #3 CONGRESSMAN SCHNEIDER SPEECH
---