Specialized Services
Partners in Adult Learning (PAL)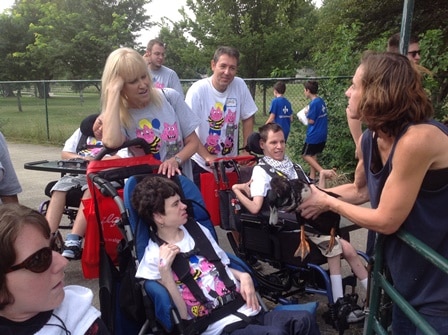 The PAL Program is an innovative partnership between families, service providers and the community. PAL provides opportunities for continued learning for young adults over 18 years of age with developmental disabilities and physical challenges who have graduated out of the school system. PAL incorporates an array of learning opportunities supported with technology, therapies, and community-based experiences that provides intellectual stimulation, enhances self-esteem and promotes physical well being. Participants of PAL attend the program five days a week and enjoy community-based experiences through volunteer opportunities, educational experiences, and recreational activities. Staffing ratios complement attributes of each client. An array of assistive technology and communication devices are utilized in the program. The parents of PAL participants are actively involved in the program.
Frequently Asked Questions
What are some of the eligibility criteria for admission into the PAL Program? Individuals must have available funding resources that commensurate with the annual cost of the program. Family members must be willing to actively contribute and participate in the ongoing fund-raising efforts of the PAL Program Partnership Committee.
How does the PAL Program differ from Community Day Services (CDS)? There are a number of differences including cost of the program, higher staff to client ratios and utilization of high tech devices. PAL combines attributes of both programs yet provides more individualized direct services for each client based on their interest.
What ancillary services are available? Clinical services including speech, occupational and physical therapy and behavioral supports are available to individuals.
What type of adaptive equipment do we utilize? An array of high to low tech devices adapted to the individual's needs including chair lifts and speech therapy devices.
Staff Positions and Primary Responsibilities
Curriculum Consultant – Provides ongoing educational options for the participants, trains staff, and works to include adaptive equipment into the individuals' environments as well as match volunteer community jobs to participants.
PAL Job Coach – Directly responsible for developing and implementing programming that promotes client independence, adult living, self-sufficiency, acquisition of functional skills according to the individual's ability and the individual program plan. Supports the individuals at their job site.
Where is the program located?
Clearbrook's Getz Building
746 S. Vermont
Palatine, IL 60067
What are the age requirements to participate in the program?
Participants must be at least 18 years of age.
Contact Information
If you would like more information about Clearbrook's PAL Program, please contact Lauren Mariucci, Assistant Vice President, Clearbrook Central at 847-991-4100 or lmariucci@clearbrook.org.