Home-Based Services -
for Adults
Clearbrook understands how challenging it can be to care for a loved one with
a disability. Our home-based services are tailored to provide eligible individuals and their families services and supports in the comfort and familiarity of their home and community with a goal of achieving as much independence as possible.

Clearbrook's Home-Based Services Program provides:
Support to individuals age three through adulthood and their families
Services to promote skill development and community integration.
Coordination with other programs in which family members may participate.
Home-Based Service Option Plans:
Eligible individuals and their families have two plans from which to select:
Agency Directed – Family selects Clearbrook to employ and train Personal Support Workers.
Family Directed – Family selects an employer to hire and train Personal Support Workers.
Program Highlights and Accomplishments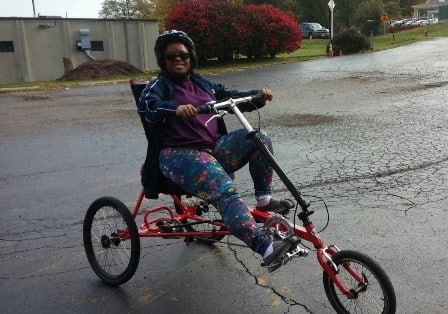 Clearbrook's Home-Based Services Program is the largest provider of home-based services in Illinois.
As a leader in home-based services, Clearbrook provides training and support to Service Facilitators/Self-Directed Assistants throughout the state through a network called the Home-Based Workgroup.
Clearbrook's Home-Based Services Program serves over 1,400 families annually in over 180 communities throughout 16 counties in Illinois.
Over 425 Supported Living Assistants work with families in our Home-Based Services Program.
Frequently Asked Questions
What is the goal of the Home-Based Services Program? Home-based services is designed to promote a family environment through skill development and community integration.
What are some examples of active treatment? Active treatment includes goal setting, developing daily living skills, behavior management and other tools needed to help the participant move towards independence.
What is the role of the family? Your family's support and involvement is essential to your family member's success in the Home-Based Services Program. Partnering together, we can make a difference in expectations and desires that you and your loved ones have identified.
Staff Positions & Primary Responsibilities
Clearbrook recognizes that open and continuous communication between families and direct care staff is the heart of a successful relationship. The most critical staff members of our team are:
Educational Specialist – The Educational Specialist provides information and options on educational matters to parents with school aged children to help them build their advocacy skills. The Educational Support Specialist also can assist in developing a provide a clearer line of communication between the school and family in order to ensure that any and all possible academic options for the student have been considered. The Educational Specialist provides information for Clearbrook's clients whose school aged children are requesting or feel they are in need of additional support through the planning and implementation of school-provided services. This includes but is not limited to a change of academic placement within the school district or another facility, educational accommodations, or requests for additional supplemental services (i.e. OT, PT, SLP). The coordinator also provides Clearbrook's clients with added support in order to ensure communication between the school and the family is conducive towards the educational/behavioral needs of the client. Services such as consultancy, classroom observations, attendance at IEP meetings, coordinating services with BCBA's and other support staff are all included within the specialist's role.
Supported Living Assistant (SLA) – Matched to families based on job qualifications, experience, scheduling and compatibility, the SLA Provides participants with supervision, training, assistance and guidance at home or in the community; he or she is extensively trained by Clearbrook.
Service Facilitator/Self-Directed Assistant – Provides case management services to the individual in conjunction with the family and serves as primary contact for the family. The Service Facilitator/Self-Directed Assistant supervises the Supported Living Assistants. Facilitate services with other professionals as needed.
Family Support Specialist – Advocates and supports the IEP (individualized education plan) for the child. Assists the family with scheduling concerns, behavior programming and transition planning.
Board Certified Behavior Analyst (BCBA) – Completes functional assessments and provides behavioral supports to reduce incidents of problem behaviors and improve the adaptive and social skills of the clients. Assists in supervising interns. Provides support and training for direct care staff.
Transition Outreach Specialist – Support families through the social security and Medicaid process; provides information on special needs trusts; assists families in obtaining benefits and links families to adult services.
Where is the program located?
Services are provided to clients in the family home.
Home-Based Services (Administrative Offices)
Clearbrook
1835 West Central Road
Arlington Heights, IL 60005
Clearbrook South
2777 Finley Road, Suite 22
Downers Grove, IL 60515
What are the age requirements to participate in the program?
Participants must be three years or older.
Contact Information
If you would like more information about Clearbrook's Home-Based Services Program, please contact Heidi Raymond, Director of Admissions at 847-385-5328 or hraymond@clearbrook.org.