Corporate Partnerships
Corporate citizenship. Corporate philanthropy. Corporate giving. Corporate social responsibility. No matter what you call it, the result of investing in your community has significant benefits to your company, your employees and your public image.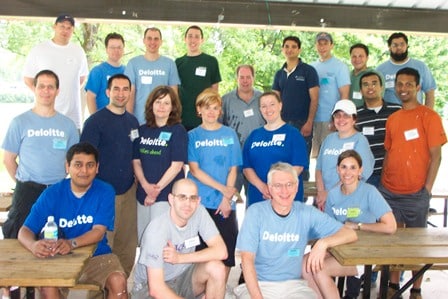 When it comes to selecting a charity to support, we know that companies want their dollars to reach the individuals that need it. Proudly, 92% of the donations we receive at Clearbrook are used to directly fund programs and services for our clients. Let your business decisions reflect your dedication to our local community.
Reasons to give to Clearbrook
Increase your name recognition and brand awareness – Aligning yourself with us will expose you to an audience of loyal supporters that are motivated to help companies that help Clearbrook.
Enhance job satisfaction, improve communication and promote leadership among employees – Let your employees know that their employer has a heart and looks after the people that live, work and play nearby.
Strengthen trust and loyalty among consumers. – According to Walker Solutions, a firm that analyzes customer loyalty trends, consumers are more likely to spend their money on a good corporate citizen.
Positively impact the individuals and neighborhoods in our local community. – Parents, siblings, aunts, uncles and friends of our clients are your consumers and customers. Show that you support what matters to them.
Ways your company can help
Organize a company-wide fundraiser – Make it fun by asking employees to pay to wear jeans or their favorite sport team's shirt or hat.
Sponsor a fundraising event – With more than 80 special events on the calendar each year, we can help you reach your target market through an event sponsorship. Special events are also wonderful opportunities to entertain clients or thank employees.
Do volunteer work with a team of employees – Encourage team-building and communication by painting or landscaping one of our group homes.
Employ our clients – Our clients are dependable, high-quality workers with superior attention to detail. Tap into this valuable resource.
Support a new or on-going program – Being a leader in our field means we are constantly enhancing existing or creating new programs to meet the needs of our clients. Put your dollars towards one of these programs.
To discuss ways in which a corporate partnership with Clearbrook can be a win-win marketing and public relations opportunity for your company, please contact Vicki Watts, Director of Corporate and Foundation Relations, at 847-385-5010 or vwatts@clearbrook.org.