When:
2019-12-03T00:00:00-06:00
2019-12-04T00:00:00-06:00
Contact:
Andi Wojcik
(847) 385-5014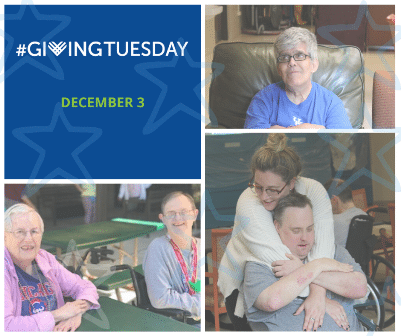 "Clearbrook is family. We have our own families but when you come here we are a family, we love you." –John, a resident at the Lattof Commons.
Clearbrook is home—a family—to over 8,000 individuals, as well as their loved ones. This Giving Tuesday, please consider a gift to Clearbrook to share the gift of "home" with others. Your generosity would have a direct impact on our individuals, like John and the other residents at the Lattof Commons.
As a local nonprofit organization whose history spans six decades, Clearbrook is grateful for the continued support of the community every Giving Tuesday. Taking place on December 3, 2019, Giving Tuesday is a day to give back. Please consider making a gift to Clearbrook. Every gift will help our individuals to live the best life possible.