Document Destruction
Clearbrook launched a document destruction business enterprise in 2008, providing a valuable service to the community, while creating job opportunities for adults with developmental disabilities.
We welcome drop-offs at our Palatine facility as well as a monthly container rental that we can pick-up and change-out. Our clients are involved in the pick-up, preparation, sorting, and destruction of the documents.
Click here for a 25% off coupon on your first order!
Program Highlights
New job opportunities have been created for our clients that work in Document Destruction.
New business partnerships have been built with companies in the community including doctor's and attorney's offices.
Frequently Asked Questions
What are your hours and location? Drop-offs are accepted Monday through Friday, 9:00 a.m.-3:00 p.m. at the north side of our Getz Building, 746 S. Vermont Street, Palatine, IL 60067. Please note we will be closed on Thanksgiving, Christmas, and New Year's, please call with questions about other holidays.
What are your prices? Our prices are $7.50 per standard size paper box and $12.50 per large legal-size paper box; or $0.25 per pound. Monthly rental and change out for a 32 gallon will be $30.00 per container and $40.00 for a 65-gallon container.
Do you provide pick-up services? Pickups are free within a 15-mile radius for customers that have container rentals. Pickups for non-container rental customers will be $0.52 per mile with a minimum of 10 boxes or more.
Where is the paper actually shredding and stored? The paper is shredded on-site by our trained document destruction crew. Your documents are stored in our secured and locked area until they are ready to be shredded. A certificate of destruction is given to all customers. Due to COVID, no one may watch their documents be destroyed as access to the building is limited to staff and clients only.
What type of payment do you accept? Cash, credit cards, and checks (payable to Clearbrook).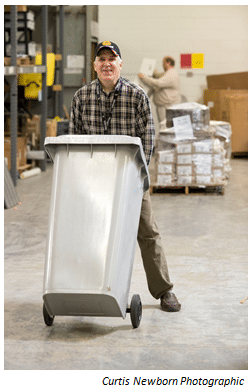 Staff Positions and Primary Responsibilities
Supported Employment Job Coaches – Supervise and assist the clients that perform the preparation, sorting, and destruction of the documents. Job coaches are trained to maintain a secure and confidential document destruction environment.
Document Destruction Crew – Comprised of clients that participate in our Community Employment Services Program. These clients perform paid work which includes preparation, sorting, and shredding, and are responsible for maintaining a secure and confidential document destruction environment.
Community Employment Supervisor – Supervises the crew and maintains a secure and confidential document destruction environment. Coordinates document pick-ups/drop-offs, customer inquiries, storage and removal of documents as well as staff and client training.
Where is the program located?
Clearbrook's Getz Building
746 S. Vermont
Palatine, IL 60067
What are the age requirements to participate in the program?
Participation is open to individuals 18 years of age and older.
Contact Information
If you would like more information about Clearbrook's Document Destruction services, please call 847-991-4100 ext. 327 or email docdestruct@clearbrook.org. For new service, contact Lou Topolski, Document Destruction Manager at 847-991-4100 ext. 336.
Thank you to our loyal supporters
Bongi Construction

Bridge Youth and Family Services

Cizek Tax Group

Cremerius Law

Doris Toher

Gerry Aylward and Assoc. Orthodontist

Favia Dental

Hunter Benefits Group

Immanuel Lutheran Church

Jeffrey A. Rabin and Associates

Joseph Electronics

Kappel & Apple

Knee Law Firm

Neil Greene Law Offices

Northwest Family Medical

Plum Grove Dental

Rabin Group

Rabine Group

Soprano Accounting

Tredroc

Village of Schaumburg