Clearbrook Helps Infants Learn and Develop (CHILD)
CHILD Therapy services is a family-focused, interdisciplinary program that serves and supports families with young children age birth to five with developmental delays. All service delivery focuses on the unique needs of the child and family. Intervention strategies are designed to become embedded into family routines.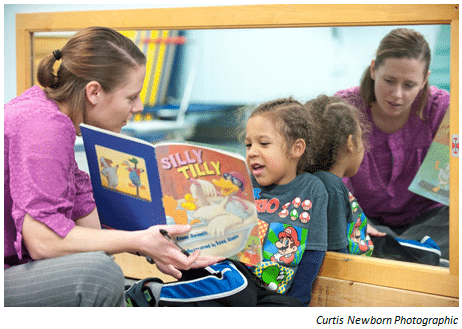 An open working partnership between the therapist and family is emphasized to ensure the acquisition of skill development. Our focus is on the ability, not disability, of the child.
Frequently Asked Questions
What is the difference between CFC (Child and Family Connections) and CHILD Therapy? CFC is the starting point for the referral of all children under 36 months of age to Illinois' Early Intervention System. CFC is responsible for intake, evaluation and referral. Clearbrook's CHILD Therapy is a program that offers the speech, occupational, physical and developmental therapy – part of the broad definition of early intervention services.
What does natural environment mean? This refers to family-centered settings in which a therapist provides services to a child (i.e. in the family home or day care center).
Staff Positions and Primary Responsibilities
Speech/Language Therapist – Provides assessment, treatment and consultation for children in all areas relating to speech/language development.
Occupational Therapist – Provides assessment, treatment and consultation for children in the areas of fine motor, visual-perceptual and sensory-motor functioning.
Physical Therapist – Provides assessment, treatment and consultation for children in the areas of gross motor functioning.
Developmental Therapist – Plans and implements developmental activities for children with developmental disabilities.
Nurse – Provides consultation to families and staff regarding medical issues; is involved in the intake process for all families.
Where is the program located?
Clearbrook's CHILD Therapy
1815 W. Central Road
Arlington Heights, IL 60005
What are the age requirements to participate in the program?
Services are provided to children from birth to age five.
Contact Information
For more information about Clearbrook's CHILD Therapy Program, please contact Susan Roderick, Director of CHILD Therapy and Support Services at 847-385-2621 or sroderick@clearbrook.org.
For availability of therapists and services, please contact Peg Martin, Office Manager, at 847-385-2620 or pmartin@clearbrook.org.
WE ARE OPEN
Open Doors – a free resource for providing support and resources to families of children (0-18 years of age) with medical needs, is available. Just call 847-385-2625 or email mschnaper@clearbrook.org.