Autism Day Services
Clearbrook Autism Program (CAP)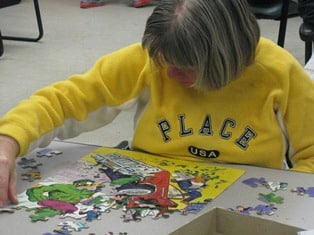 CAP was created in 2009 to address the needs of adults that are on the autism spectrum. Our CAP Program is offered in Palatine. The program provides a highly structured schedule with opportunities for community-based employment experiences and recreational activities. Clinical services are offered to participants of CAP including occupational, speech and behavioral therapies. Staff members have received specialized training to work with individuals on the autism spectrum. Clients are welcome to use the computer learning center and video learning center – both are equipped with assistive and adaptive technology to make the engagement as beneficial as possible. A variety of programs are offered within CAP, including art (which uses art as a medium for self-expression), recycling, gardening and fitness. Each client has an individualized schedule and goals within the program.
Program Highlights
There is one staff person for every three program participants.
CAP emphasizes community integration and outings.
Frequently Asked Questions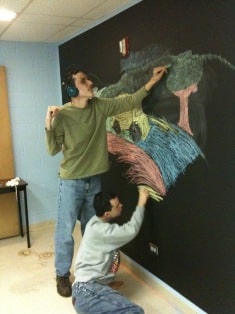 My child is diagnosed with spectrum disorder and often displays negative behaviors. Will this affect their eligibility for the program? At Clearbrook, we understand that people diagnosed with spectrum disorders struggle to communicate with the rest of us, and often behaviors are a method of communication. We work with our clients and their families to interpret these behaviors and teach the clients more effective methods of communication.
State funding is difficult to secure these days. Does CAP accept private pay options? Yes. In the event that state funding is not available, we can arrange to create a private pay situation. Arrangements can be made through the Program Director.
Does CAP offer a part-time option for its participants? Yes. Individuals can participate part-time, however, days and hours must be consistent and agreed upon prior to admission.
Staff Positions and Primary Responsibilities
Program Director – Oversees entire program.
Program Coordinator – Oversees program planning and directly supervises CAP management staff.
Client Services Manager – Responsible for the day-to-day operations of CAP.
Autism Specialist – Direct care staff person that works directly with the program clients.
Where is the program located?
Clearbrook Autism Program – Palatine
746 S. Vermont
Palatine, IL 60067
(Enter on northwest side of building)
What are the age requirements to participate in the program?
Participation is open to individuals with autism or autism spectrum disorder 18 years of age and older.
Contact Information
If you would like more information about Clearbrook's CAP Program, please contact our Admissions Department:
Heidi Raymond
847-385-5328
hraymond@clearbrook.org